We Are Gold - Andy Jones
By Rob Nichols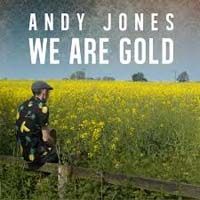 Andy Jones is a head over heals, hopelessly devoted romantic. The Norton Rocket is in orbit and he makes absolutely no apologies whatsoever for baring his loving soul to the world on a brand new album. Last weekend Andy launched his latest long player, We Are Gold, in the intimate confines of the Green Room, Stockton and received a whole lot of love back from the audience.
Carl Eaton got the ball rolling at the Nouvelle Musique promoted album launch night. One of the classiest singer songwriters in our neck of the woods, Carl is a songsmith as well as a consummate professional performer. Words seem to melt in his mouth as he rolls them around on his tongue.
Carl had actually filled in at the last minute as opener but would later take the stage playing guitar and keyboards in Andy Jones' backing band.
Second up was the singer/songwriter McCormick, Steve McCormick. He is an infectious character. He bobs up and down as he delivers the most delightful pop ditties. Andy Jones would concur with the intent of "PSILU". "Joy Ride" is a bit racier and a real riot. His single "Goosebumps" is so catchy.. well, to be honest I am still singing it to myself now as I type.
Despite the warmth of a June evening crowded together in a small room Andy Jones was the height of sartorial elegance dressed in a 3 piece suit and matching flat cap. He reached out to the audience immediately by moving amongst us and singing accompanied by only his ukulele. He was delivering the manifesto behind We Are Gold, strip away all the "Ridiculously Complicated Thinking" and instead revel in the simple pleasures of love. "It is tax free," he told us.
The man that brought us flying flamenco guitar, who hammered the keyboards and banged the drums whilst singing for the Norton Rockets was now plucking a uke and singing from the heart. Accompanied by Chris Graham on bass and Carl on guitar and keyboards, Andy played through the songs from the album but with a few surprises thrown in along the way. He introduced "Gold" as being dedicated to anyone that got up on a morning and then did their very best that day. There was no need to reveal any back story to "Snogging."
I'm not quite sure how he pulled it off but Andy then switched the mood completely with a ukulele driven cover of Beyonce's "Single Ladies," what a surprise that was. He finished the night with an oldie of his own the rousing and uplifting, "Valencia" before returning with another triumphant cover, "I Need a Dollar."
Andy Jones has succeeded in crafting an album of timeless melodies, with catchy choruses and truly heart-warming lyrics. Songs you can whistle and sing along to, that will give you a warm glow long after the summer heat has gone. What a charmer.

This article was originally published in The Gazette a couple of weeks back since when I've played the album many, many times. It is a real winner.
To rate this article select the number of stars you think perfectly rates this article.