FROM THE W.I. TO IRON WOMEN
By Andrew Pain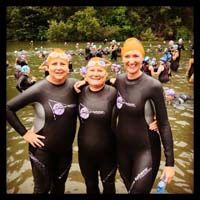 A daring duo from the Women's Institute had no idea what they were volunteering for when they agreed to take part in a Channel 5 "challenge".

And little did Middlesbrough mums Pauline Osborne and Sharon Williams – self-confessed "couch potatoes" - expect they would soon be taking part in a half Iron Man triathlon.

The mammoth fitness endurance test involved a 1.2-mile swim, a 56-mile bike ride and a 13-mile run in California called Barb's Race.

Pauline and Sharon's heroic efforts will be broadcast on the Channel 5 show Go Hard or Go Home on Monday (January 20) at 7pm.

The two, who have never done anything similar in the past, are part of the Women's Institute North East (WINE) group who meet at the Methodist Church Hall on The Grove in Marton on the last Tuesday of each month.

Taking up the story of how they got involved in the unlikely and arduous adventure, Pauline, 53, from Marton, said: "Channel 5 approached the group about a 'challenge' and me and Sharon put our hands up because no-one else would.

"We were then given a book of exercises to get on with for six weeks but we still had no idea what it was we would be doing when the cameras started to roll."

Pauline and Sharon began training five nights-a-week at Coulby Newham's Middlesbrough Council-run Rainbow Centre with the help of staff.

After six weeks they were called to Newcastle where the extent of the task was explained and the two were given a second six-week spell to prepare.

Pauline, a mum-of-two and grandmother, said: "The staff at the Rainbow Centre were brilliant, we couldn't have done it without them, they were just so helpful.

"Since coming back from California we have kept it up, but not as much as we did to prepare for the challenge.

"It was a great thing to do and if it can encourage even one or two local people to go to a gym, eat more healthily and look after themselves then we'd say go for it. It's really boosted our confidence."

Sharon, 50, a mum-of-two, from Nunthorpe, said: "Never in my life, even when motivated before, had I ever had to exercise so much to even be in with a chance of being ready to face any sporting challenge.

"On the reveal day in Newcastle I actually went into a two-day depression and considered throwing the towel in.

"I have been asthmatic since I was a child and haven't used inhalers since April! I hated running as thought I just wasn't capable.

"Since the challenge I took part in the Middlesbrough 10k with my eldest son and raised nearly £600 for Alzheimer's UK and I am hoping to take part in the Great North Run this year.

"Whilst I still find keeping fit a challenge being part of this has made me accept myself more and not beat myself up on the days I want to eat chocolate or don't want to go to the gym. The next day I just get back on it.

"It was also my 50th birthday whilst preparing for it and gave me so much confidence. I now also work full time in London commuting Monday to Thursday as well as having my own business.

"When I'm faced with any challenge I think to myself 'Sharon, you are an Iron Woman!'"

· Anyone interested in kick-starting a healthy lifestyle in 2014 should visit www.middlesbrough.gov.uk/activemiddlesbrough or search for activemiddlesbrough on Facebook.
To rate this article select the number of stars you think perfectly rates this article.