Andy Kershaw at Mink
By Craig Mink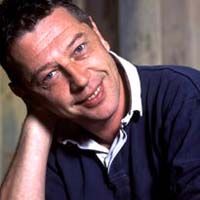 The one and only Andy Kershaw, will be talking about his life and experiences and signing his new book in the intimate venue that is Mink!

Tuesday 25th June
Andy Kershaw
+ Live Music from Dave Sharp (The Alarm), The Unsung Hero & That Super Colour

As perhaps the star turn of this year's Middlesbrough Literary Festival the man that revolutionised world and roots music on the radio is here to sign his new book - NO OFF SWITCH - The back‐to‐back adventures of a full‐throttle life from the maverick broadcaster, pioneering DJ, and unstoppable foreign correspondent ‐ Andy Kershaw.

Andy Kershaw truly has no off switch. Already he's lived ten lives to everybody's one. As a teenager, he was promoting major rock gigs at Leeds University. Robert Nichols was at the Uni at the same time and when he went to a recruitment drive for the Ents gig team was put off by Andy's speech in which he said expect to work hard, have fun but don't expect to pass your degree. Robert left Ents before he joined it and scraped through his degree. Andy Kershaw went on to have a massive career in music with or without his degree.
Andy was Billy Bragg's driver and roadie one day and presenting Whistle Test and Live Aid the next. A passionate music enthusiast, he is a man with an obsessive curiosity about the world. Over a twenty‐five year career, he has worked for the Rolling Stones and Bruce Springsteen, shared an office with John Peel and has amassed a record collection that weighs more than seven tons.
A fearless adventurer, he has visited 97 countries and, as a rock & roll war correspondent ‐ for Radio 4 and the broadsheets ‐ he has reported from some of the world's most perilous places including Iraq, Sierra Leone, North Korea, Angola and Haiti. Andy was one of very few journalists to be an eyewitness to the Rwanda genocide. He has won more Sony Radio awards than any other broadcaster.
As well as this Dave Sharp (The Alarm), someone from his old Whistle Test days will be performing! Not to mention local stars The Unsung Hero (massive Teesside band) we don't get to see enough off will be performing live!with more local support from That Super Colour brand new cutting edge,

Its all happening on a Tuesday night in Mink!

This event is in association with :

Middlesbrough Library Literary Festival
Arts Council England
Middlesbrough Council
Libraries & Information

Tickets : £7
Available from Middlesbrough Library
Andy Kershaw will be live from 7pm - don't be late!
Other events in this big week at Middlesbrough's Mink Bar:
Thursday 20th June
Thursday Acoustic : Andrew Mockler + Friends

Nationally acclaimed singer songwriter Andrew Mockler will be performing at Mink, supported by other artists from around the UK, personally chosen by Andrew.

Having had a No.1 hit in New Zealand with 'She Waits' and having toured with Sting, we are privileged to be welcoming Andrew Mockler to Mink.

Friday 21st June
Rook and the Ravens -meet- Able Raise the Cane
We have some real talent coming to Mink, two outstanding bands...
Rook and The Ravens
Alternative rock bristles with dark intent amidst a Technicolor landscape populated by tough guitar pop, shiny harmonies and several stories of keyboards built on an unwavering rhythm foundation.

Able Raise the Cane
Abel Raise The Cain are an alternative epic post rock band from in and around the Teesside area.

When the bubble or romantic suspense pops, a chorus, a wall of sound, a full culmination of six instruments really grabs the ears; A chanted motif, "I'm just too late", has rung around in my head since coming across Abel Raise The Cain. This is a 'big room' song.
Saturday 22nd June
FunkBox : SummerJam June

Funkbox returns with DJ Bobzilla steering the good ship, playing heavy funk, sensational soul, classic hip hop, reggae and edits.
Monday 24th June
Mink Rocks
Live music from the area's top rock acts
To rate this article select the number of stars you think perfectly rates this article.