TV magic man Pete Firman confirms Edinburgh Preview in Saltburn
By Rob Ten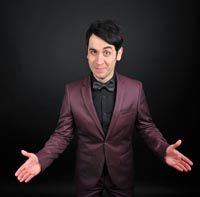 Comedy fans are in for a huge seaside treat this summer, with Boro-born magic man Pete Firman today confirmed for a special Edinburgh preview at Saltburn Community Theatre on Sunday 14 July.
The gorgeously intimate theatre is already home to the monthly Brass Neck Comedy Club which has proved a big hit since launching in front of a packed crowd just over a year ago – and features another top line-up including Radio 1's Tom Deacon on Saturday 6 July.

But this new Edinburgh preview is being described by promoters All or Nothing as a 'proper bonus' for comedy fans in the town.

Described by The Telegraph as 'the new poster-boy for British comedy magic,' and by The Independent as having 'the best magic tricks in the Universe,' Pete has wowed millions of TV fans as star of BBC1's The Magicians.

He's also made dozens of guest appearances on a string of top shows including BBC2's The Sarah Millican Television Programme, The Channel 4 Mash-Up, The One Show, Comedy Rocks with Jason Manford, This Morning, Gordon Ramsay's Cookalong and bags more besides.

His skill for mixing magic and comedy has also seen him writing and performing in shows including Derren Brown's 3D Magic Spectacular and Dirty Tricks (both Channel 4), Monkey Magic (FIVE) and The Secret World of Magic (Sky 1).

But now Pete's gearing up for his seventh Edinburgh Festival with a brand new show – Scoundrel – and he can't wait to get started.

Pete said: "Working on a new show like this is just like starting again – and I love it to bits! I love creating new material and I always look forward to Edinburgh."

Pete also has happy memories of Saltburn. Growing up around Linthorpe and Acklam, his family still live on Teesside, and his father Alan used to run Alan Firman Cars in Normanby before retiring a couple of years ago.

"I used to love Saturday mornings walking on the pier and beach at Saltburn with the family when I was growing up," said Pete. "I genuinely love the place, so I'm really looking forward to coming back for this gig."

Asked about his new show, Pete said: "Expect the unexpected! I try and present the most impossible things that people have ever seen, in the funniest possible way. Let's see what happens!"

Carmel Ramsay of Saltburn based promoters All or Nothing said: "Brass Neck is really established now on the comedy circuit. The comics love it, and the audience is just fantastic month after month.

"So this show is a proper bonus for us and the town. We're over the moon to bring Pete back home on his way to Edinburgh.

"He's the absolute man when it comes to comedy and magic, and this is going to be a fantastic show!"

Brass Neck Comedy Club: Saltburn Community Theatre. Saturday 6 July. Doors: 7pm. Show: 8pm. Starring Tom Deacon, Ray Peacock (MC), and special guest tbc. Tickets: £8 (early bird first 50 tickets) / £12 general.

Pete Firman: Scoundrel. Saltburn Community Theatre. Sunday 14 July. Doors: 7pm. Show: 8pm. Tickets: £10.00.

Tickets for both shows available from Saltburn Health Foods or www.saltburnarts.co.uk

Pete Firman plays the Edinburgh Festival at The Pleasance Courtyard between 31 July – 25 August. For further info, visit www.petefirman.co.uk
To rate this article select the number of stars you think perfectly rates this article.