A FOOTBALL TOUR OF TAMESIDE PART 1
By Martin Russell
Running legend Ron Hill's connections with Macc Town are somewhat tenuous, but I won't let that stand in the way of a contrived introduction to this article!

Well he did represent GB in the 1964 Olympics where Ian Brightwell's mum and dad won gold and silver medals, and the former Macc midfielder John Imrie used to manage Hill's shop in Manchester.

Anyway, Ron Hill was also one of the leading lights behind the athletics event called Tour of Tameside, described as the toughest challenge in British athletics. I am not sure if it was quite that but with 6 races in 7 days over a total of 52 miles is was certainly a test.


The first stage used to start from Ewan Fields (Hyde United) and end at Seel Park (Mossley) with the 6th and final race run the other way round. The event attracted some top class athlete and a larger number of plodders such as yours truly.

In this article I am going to swop the running shoes for the pen (well keyboard really) and take a look at the influence that the various Tameside clubs have had on the fortunes of the Silkmen over the past 30 years or so. I will start at Mossley as it is downhill from there. Up at "top Mossley" the view from the stand at Seel Park must be one of the finest from any ground in the land.

My main memory of games between the Silkmen and the Lilywhites is that they were close affairs with few goals separating the sides. Looking back to 1983 Macc were beaten 1-0 at Seel Park in the March of that year with the only goal scored by Tibor Szabo, one of 3 players in the Mossley line up who later played at the Moss Rose, the others being Phil Derbyshire and Mike Sherlock. Six months later we got our revenge with a 2-0 home win with goals from Keelan and Griffin and by now Mike Sherlock was in goal for Macc. A talented, athletic 'keeper Sherlock had a couple of spells at Macc and in my opinion was one of the top keepers in non league football. He actually spent a season playing for my home town club, New Mills. Now at that time the Millers were struggling at the bottom of the Cheshire League so Sherlock got plenty of practice!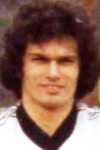 Tibor Szabo, born of Hungarian parents, was a skilful forward that we signed from Bradford City. While he was at Seel Park he was involved in a bizarre game in the FA Cup against Crewe in 1980. Mossley had a powerful side at the time and were looking to upset the football league outfit. They signed England International Mike Summerbee just for the one match and "Buzzer" swung over the corner that led to the only goal of the game. When the veteran Summerbee ran out of petrol in the second half his replacement was Mr Szabo. One of the shorter contracts in football history I would imagine. When Tibor's playing career was over he went into coaching academy youngsters with some success.

Another famous name to play for Mossley in recent times was Howard Wilkinson, who was a skilful outside left in the days when Mossley had the likes of Leo Skeete, Davey Moore and Eamonn O'Keefe and were one of the top dogs of northern non league. Wilkinson was player manager at Seel Park for a while, as was George Sievwright, a wing half in the Macclesfield Town side that won the FA Trophy in 1970 whose full name was George Edgar Smollett Sievwright (not many people know that!).


Jim Connor won the player of the year award a couple of times at Mossley before moving to Macc and played alongside another Macc favourite Craig Wardle during his days at Seel Park, while Steve Wood and John Imrie also had spells at Mossley.

Many famous players have turned out for Ashton United, including the late great Alan Ball who played there as a schoolboy while his father was manager. More important from a Silkman point of view was the spell that Sammy McIlroy spent there as manager during which time he signed a certain Steve Wood. What an influence those two wer4e to have in the years that followed. As well as Woody, Sammy also brought a couple of his other ex Ashton players to the Moss, Ian Monk and Scott Middlemass.

A couple of other ex Silkmen went on to Manager at Hurst Cross, John Coleman and Kevan Keelan. Coleman was a prolific goalscorer in non league football scoring over 500 times but failed to make much of an impact at Macclesfield. His career as a manager led him to Accrington Stanley of course.

Phil Staley managed at Ashton, and just about everywhere else before taking charge at Macclesfield in the late 70s, a troubled period at the Moss Rose. He is perhaps best known as the author of "Get those sheep off the pitch," they don't write books like that anymore!

Other Macc players to appear for Ashton United over the years were Neil Fairclough, Alan Zelem, Dave Esser, Darren Lyons, Karl Marginson, and most recently Matty Flynn who made a favourable impression there during a loan spell.


I am going to leave Seel Park now and head off down the hill to Hurst Cross, the home of Ashton United. Now the Hurst Cross ground was opened on September 18th 1986 and there were occasions in the 1970s and 80s when visitors could be forgiven for wondering if the ground had changed at all in that time! Hurst Cross, with its slope from side to side and less than pristine playing surface, was never an easy place to go.

The two games against Ashton that stick in my mind were both cup ties. In the 1982/3 season we met them in the 3rd qualifying round of the FA Cup and second half goals from Kearsley and Griffin saw us safely through. The Ashton side that day included one of the more remarkable non league players of the time, Barney Daniels. Daniels was a powerful centre forward with an explosive shot who was signed by Manchester City after his first spell at Ashton. I was at Maine Road the night he scored twice in City's 4-1 win against Leicester where Daniels lined up with Colin Bell, Asa Hartford, Denis Tueart and Rodney Marsh. Despite mixing it in that illustrious company Barney failed to make a lasting impact at the top and returned to his roots at Hurst Cross.

I need to fast forward to the 1994/5 season now and an FA Trophy 2nd round tie away at Ashton United. This was a potential banana skin for Sammy McIlroy's side but the Silkmen were in imperious form and Ashton were never in the game. In a one sided affair where Woody, Phil Power and Darren Lyons were outstanding Macc ran out 5-0 winners. For the record the team was; Farrelly; Norman, Payne, Howarth, Locke; Lyons, Sorvel, McDonald, Wood; Askey, Power.

Carrying on my tour I will just briefly stop off at Curzon Ashton. I must admit I can't remember Macc playing at Curzon. I did visit their old ground a few times – a strange place with a stand along one side and wide open spaces everywhere else. Curzon do play a part in the story of Macclesfield Town though. We signed Mike Lake from them, a player who would have claims to a place in a "greatest ever" Silkman side. A deceptive player Lakey – tall, almost gangly, but a powerful and skilful runner with the ball and a scorer of important goals.

Next stop is the Butcher' Arms. The field had originally been a fairground and the Silkmen were certainly given a rough ride last time they played there. I have gone on at length about the 5-1 drubbing we received at Droylsden in a pre season friendly back during Brian Horton's reign so I won't bore you with the painful details again. The game was a significant one though as only the season before we had reached the play offs and something similar, or even better was expected of Horton's team, especially as he had supposedly strengthened the squad with the signing of Bullock and Sandwith. With Parkin missing injured we were easily beaten, sadly a precursor of things to come that season.


Quite a few players have enjoyed success at both Macclesfield and Droylsden. John Imrie, Carl Regan, the flying wingers Lyons and Marginson and of course the great Chris Byrne came to us from Droylsden via Flixton. The player who we perhaps should have signed was Tony Naylor. He started his career at Droylsden and then played for us in pre season friendlies' scoring a couple, of goals, but Peter Wragg decided not to sign him. Instead he went to Crewe, and later to Port Vale and was a prolific goalscorer at both clubs. In fairness to Wraggy we did have Steve Burr at the time but a Burr/Naylor partnership might have been interesting!

In recent seasons Karl Monroe, Greg Strong, Kevin Townson, Neil Sorvel and Matty Tipton have all played for the Bloods, with Tippy scoring the goal that knocked Darlo out of the FA Cup this season in a 1-0 win at the Butcher's Arms.

Well, that completes the first 4 stages of the tour. Coming soon, visits to Bower Fold and Ewan Fields.

(PART 2 OF MARTINS FOOTBALLING TOUR OF TAMESIDE WILL BE ONLINE FROM THURSDAY MORNING.)

Discuss this in our forum. It's quick and easy to register
CATCH MORE ARTICLES FROM MARTIN RUSSELL
IN THE LATEST ISSUE OF WRAGGS TO RICHES

To rate this article select the number of stars you think perfectly rates this article.